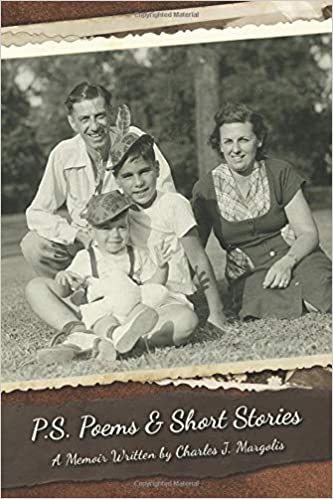 Charles Margolis '65
published
P.S. Poems and Short Stories,
a memoir inspired by his brother Dave. David Margolis was a legendary figure within the Department of Justice. For many years, he served as Deputy Associate Attorney General. Dave was known as "Yoda" — as in
Star Wars
— because he was the person everyone sought out for advice. In June 2015, David was honored for 50 years of service. Among the guests were the Attorney General, the Director of Homeland Security, FBI Director, judges, lawyers, colleagues and family. President Obama sent his congratulations. Charles was there too, and, rather than give a speech, the author read his poem "DAVE" in the Great Hall of Justice. A little more than a year later, Charles read "Eulogy for Superman" at his brother's memorial, in the same Great Hall.
P.S. Poems and Short Stories
brings insights, family stories, and a touch of nostalgia.
Congratulations to
Cindy Katz Morton '82
who was selected, along with her business partner, Jo Kaufman, to Forbes Top 200 Women Financial Advisors. Cindy works at Morgan Stanley Wealth Management in Florida.
Sam Bourns '85
showed off his Watkinson pride on the golf courses of Ireland.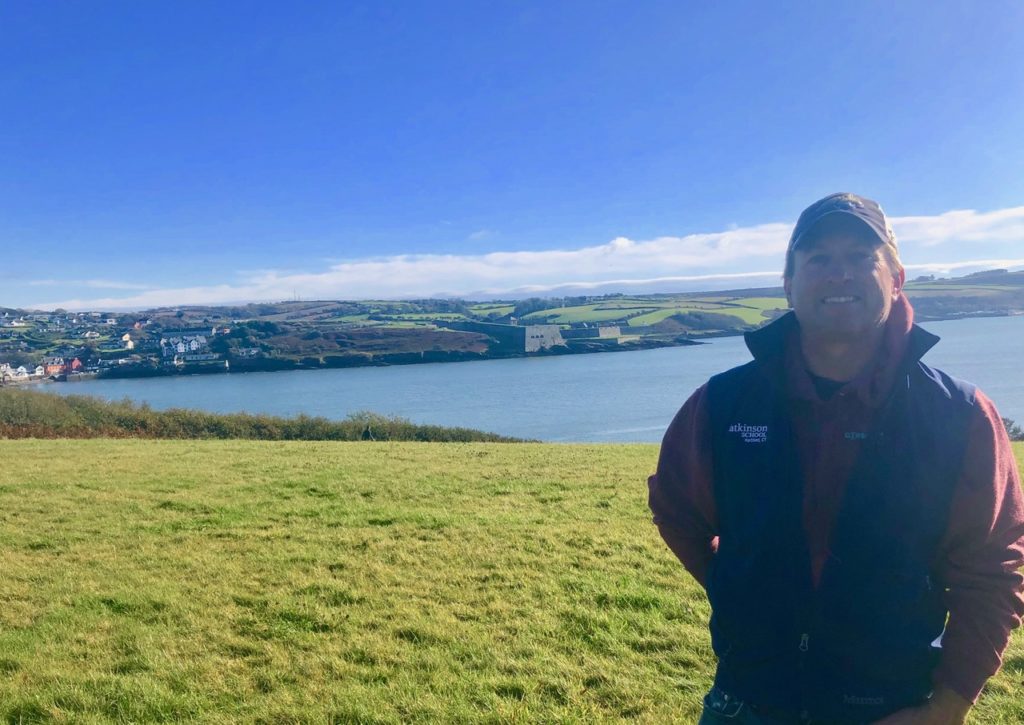 Renana Magee '85
owns and operates It's Only Natural Restaurant, lovingly referred to as "ION" by regulars. This natural foods restaurant has been around over 30 years in Middletown, Connecticut. Renana is VEGAN for the animals, and ION is 100% vegan. She started baking as a child, sold cakes in college and has worked in restaurants since she was 15 in order to support herself. She did all of the baking at ION for many years. Now she prefers to run things from behind the scenes and let her superstar employees have the spotlight. In her spare time Renana fosters dogs, goes hiking in the woods, and loves living in Deep River, Connecticut.
Christine Stickland '87
stopped working at the Colorado Open Lands in 2015 to focus on her craft business and have more time with her kids. In June of 2017 she started with Jefferson County Open Space as a Real Estate Assistant.
Jeremy Rich '89
is currently the Social Sciences department chair at Marywood University in Scranton, PA. He made a career from his love of history that Watkinson helped to instill. His research focuses on humanitarian aid, development, and international politics in the Democratic Republic of Congo. He has a new book coming out later this year that explores the role of US and Canadian missionaries and volunteers in the Congo in the 1960s, Protestant Missionaries and Humanitarianism in the DRC: The Politics of Aid in Cold War Africa (Boydell and Brewer). He also volunteers with Amnesty International USA as a country specialist on the Central African Republic. In this role, he writes letters of support for asylum seekers and promotes actions to urge stakeholders inside and outside the country to better respect human rights.
Congratulations to
Emily Hirsch '91
for winning
Newport Life Magazine
's "Best of 2020" in the Jewelry category. Emily runs Athalia of Newport in Rhode Island.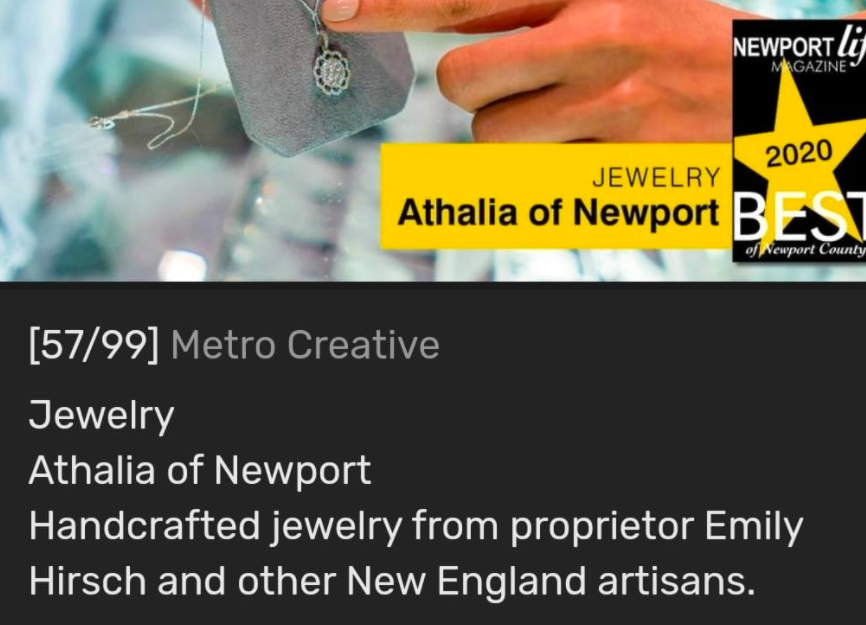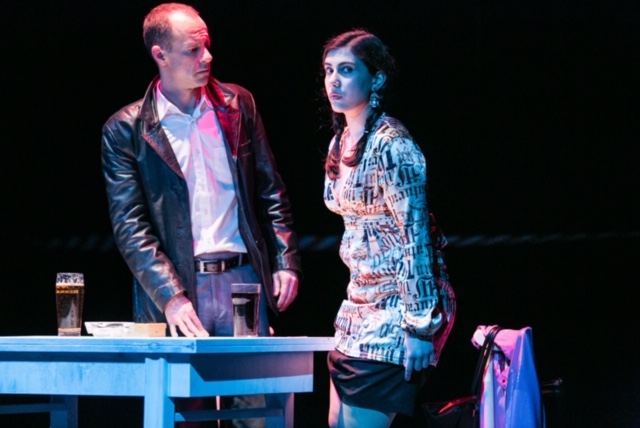 Charlie Roberts '93
 is living in Granby, MA. He has two sons, Nick 22 and Phil 19. For the past 16 years he has worked in shipping at FedEx. He'd love to teach art again in the future. Real Art Ways Cinema Coordinator 
Ian Ally-Seals '98
 has initiated a way to help with the Covid-19 crisis. Ally-Seals, who also teaches at Thomas Edison Middle School in Meriden, is using 3D printers from the school, and space donated by Real Art Ways, to make 3D-print mask connectors for medical professionals. The connectors alleviate the pain and stress on the ears from hours of wearing masks. Real Art Ways has donated the use of its gallery and lobby, turning them into a production space. The mask connectors help to alleviate pain and pressure on the faces of medical staff as they wear goggles and masks for hours at a time while treating patients.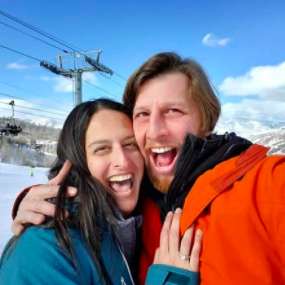 In December, on a beautiful ski slope, Andy Ostrowitz '99 got engaged to Risa Bettino.
Elizabeth Annino-Staffieri '00
 moved to Rhode Island, where she is now a special education teacher at Rhode Island Nurses Institute Middle College Charter High School in downtown Providence. RINIMC is the nation's first and only nursing themed charter school and their mission is to diversify the nursing workforce. All of the students graduate as Certified Nursing Assistants and they have the opportunity to train as an EMT as well. Like Watkinson, RINIMC students are taught to "change their world and world around them."
Congratulations to Melanie "Ellie" Berzins '03 who welcomed a baby boy, Asher Henry Theodore, on March 30th.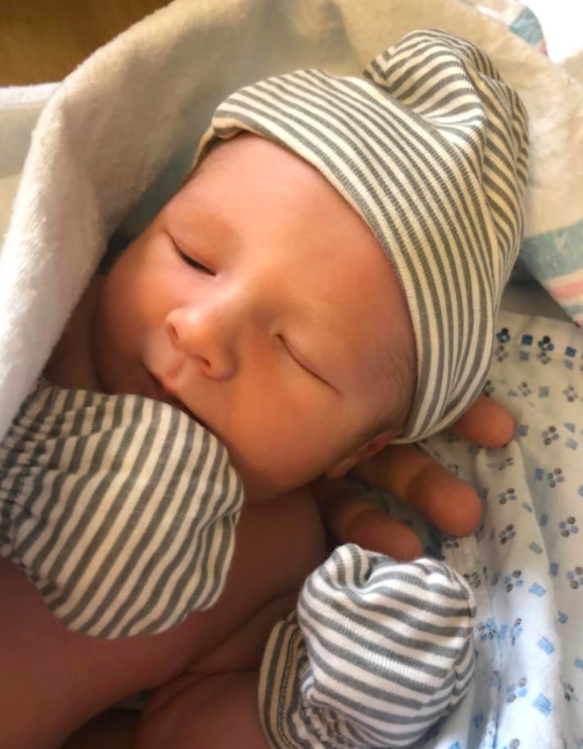 Hillary Cohen '03
 started a non profit organization named
Call To Crafting
and has led hundreds of volunteers through 12 hour sew-a-thons to make thousands of masks for many different front line workers such as Cedars Sinai Hospital, the City of Hope, Care Center Pharmacy, Trader Joe's, The Children's Center at CalTech, over 100 Starbucks employees, Arc Care Center, post office employees and the homeless. Call To Crafting has also donated masks around the country to places like Hartford Hospital, Branson Starbucks employees, school teachers in Boston, and the Branson Police Department. Hillary teaches everyone how to make masks in this 
video for InStyle
. In May 2019 
Charles Clavey '05
 was awarded his PhD in History from Harvard with a specialty in European Intellectual History. He wants to thank everyone at Watkinson who helped him develop his interests and encouraged him to pursue them!
Michael Czaczkes '06
 is working at The Hayes Initiative, an LGBTQ owned and operated public affairs firm based in New York City. During the Covid-19 crisis they conducted short pro-bono consultations with small businesses and nonprofits that worked in hospitality, theater, tech, finance and a range of other industries. Our team continues to offer free consultations and of course, anyone from the Watkinson community, should feel free to reach out (
michael@hayesinitiative.com
).
Congratulations to 
Jenny Weinholtz Graham' 06
 on welcoming her second son, Oliver, on March 10, 2020. He joins big brother Declan.
Congratulations Katie Rives '07 and husband CJ Woods who welcomed daughter Oliver Grey at the end of March.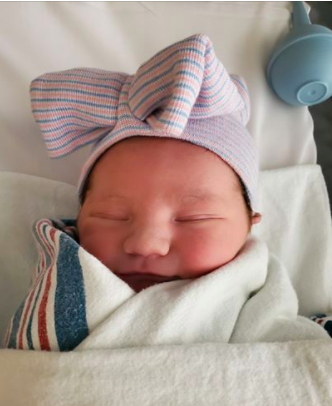 Tyler Dornenberg '07 got married in September 2019 in Malibu, CA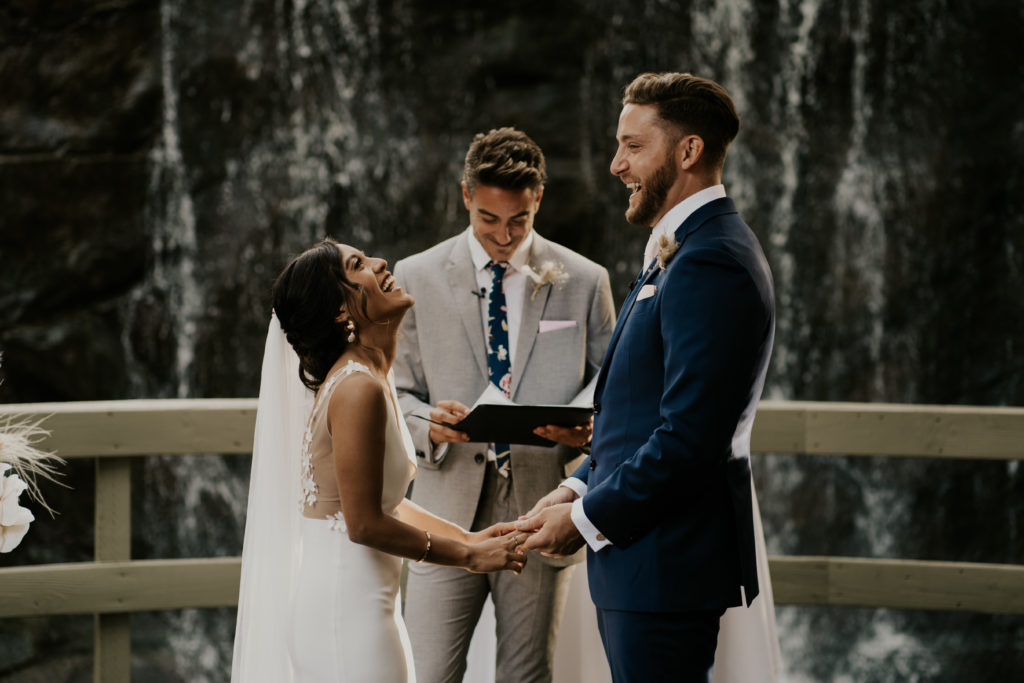 Amarillys Rodriguez '07
 was proud to accept the Affordable Housing Finance Magazine's Readers Choice Award for Best Historic Rehab Project that she worked on with the Planning Office for Urban Affairs in Boston.
Jacqueline Sibille '08
 helped to raise money for two Broadway-focused non-profits that directly help the theatre community. The Actor's Fund is a human services organization for actors aiming to help provide emergency financial assistance, affordable housing, and health care and insurance counseling. The other organization is Broadway Cares/Equity Fights AIDS, which aims to help men, women and children across the country and across the street receive life-saving medications, health care, nutritious meals, counseling and emergency financial assistance. BC/EFA holds two large-scale, multi-week fundraising events every year, raising money through the efforts of various Broadway shows and national tours across the country. She is a strong believer in the idea that many small drops make a big splash, so even just a few dollars donated to each of these incredible organizations can make a huge difference.
China Rocket '08
 is an Art Director of Illustration at Pilot Studio in Boston. China and another artist manage a small team, working primarily on toy and game art, packaging, and development. Art for Hasbro toy packaging and Star Wars art are often their most recognizable work. However, the studio overall focuses on a brand's presentation and story, encouraging clients to delve a little deeper than "making things look flashy."
Brittany Buzzerd Porro '09
got married in September 27, 2019.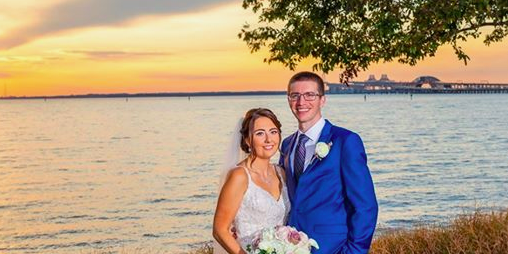 Colin Turley '09 earned his PhD in AstroPhysics from Penn State University in December.
Chance Carter '11
started in a new role at Johns Hopkins University's Centers for Civic Impact as a Researcher within the Center for Applied Public Research. In this role, he will be measuring the impact of Johns Hopkins University's role within Baltimore City.
Catherine Ianello '12
got engaged to Matty Draps on April 25th. "Officially getting married….great way to celebrate the pandemic."
Kevin Lustig '12
is living in New York City and working for Mastercard. His primary responsibilities include managing the investments desk from a company-wide standpoint, which operates in several jurisdictions with several varying currencies. Kevin focuses on how to save for customers from a currency standpoint through their everyday transactions.
Caroline Novak '13
took a position as an Intensive Care Coordinator at Riverside Community Care.
Stephanie Humphries '14
is engaged to marry Tyler Do in January of 2021. Congratulations to
Sara Pasternak '14
for graduating from the New England Culinary Institute. It was wonderful to see so many faces at the Young Alumni Escape Room event in January. Thank you
Anna Berman '17, Jared Barlow '16, Bryce Kapur '16, Rajiv Chunduri '16, and Andrew Hannon '16
(photo)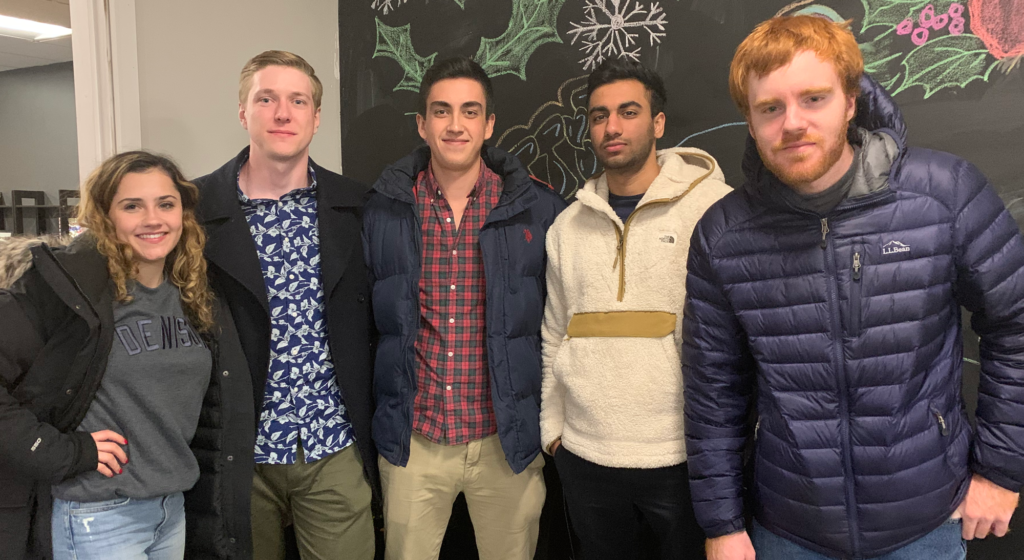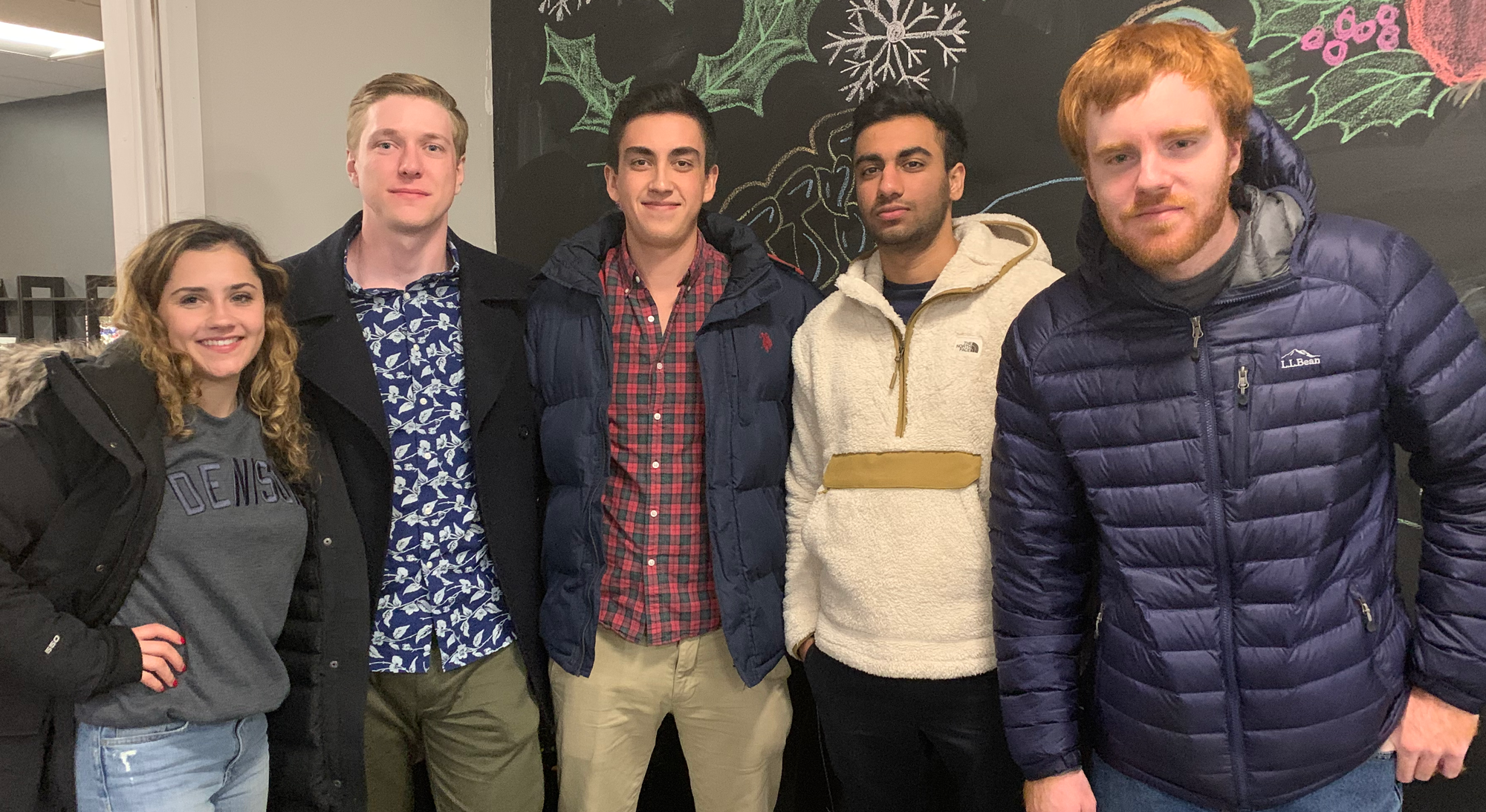 Edward Lembcke '54
David Piper '59
Ronald Musk '70
Anne Aas-Salamenta '73
Brian Flaxman '83
Crystal Mathena '00