I'm a person who finds motivation within myself pretty easily, but only when it's something I'm really passionate about. That's why I'll often go into projects trying to find an option that offers that passion. Without it I can still get work done, and I still work hard, but it takes a lot longer.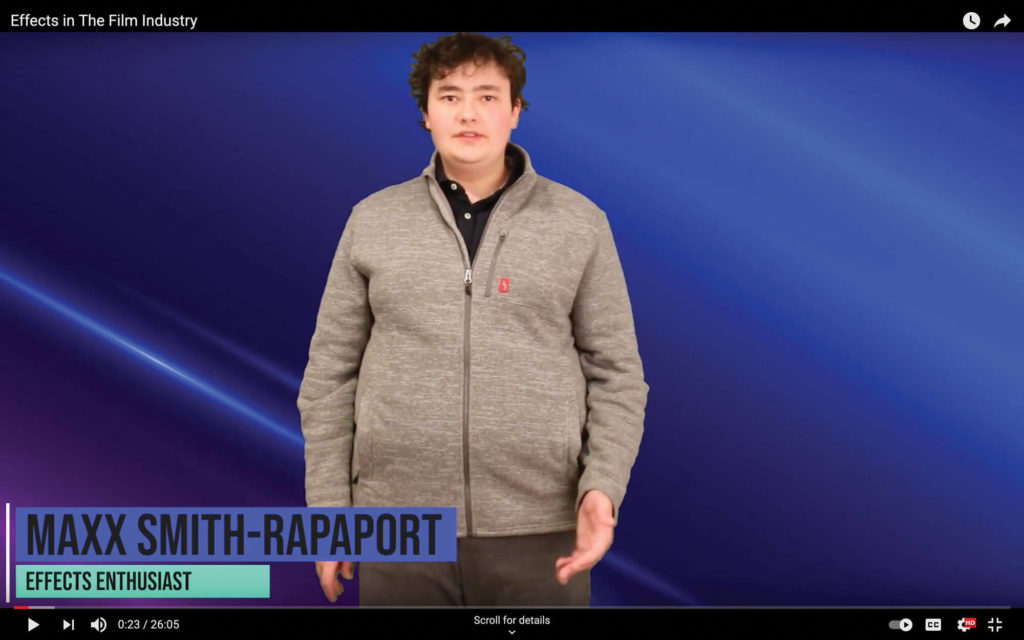 The most surprising part to me about the senior project was just the fact that I liked it so much and that I now appreciate it so much. I went into it with the most pessimistic outlook I could have had, because last year I took two sciences and I wanted to do the same this year, so I kind of resented Senior Seminar for making it so that I couldn't take that extra class. I was a skeptic about it, and I regret these words, but I actually said that it would be a waste of time. Now I'm out the other side and I think it was truly an amazing project and an amazing use of class time. And I think the reason it WAS such an important project was that I made it one. I learned so much about what I want to do for my future.
My essential question was: Will practical effects always have a place in the film industry? There are two types of effects, special and visual. Special effects are practically done, meaning they're real, while visual effects are digitally done afterwards with computers. So I want to go into the side of it that's props, costume effects, makeup effects, stuff like that.
On Senior Feedback Night, I met Caitlin, a production supervisor from MPC [a Canadian production company], who ended up being my mentor. She introduced herself and said she'd be willing to be interviewed by me and we could see if it was a good fit. On our very first conversation, we ended up talking for about an hour just about effects, not about the interview process at all or even about my project. It sparked another huge piece of interest for my project and got me really excited and motivated. So we started meeting every now and then and Caitlin set up meetings with contacts in the film industry; I got to meet all these people who will hopefully be my colleagues someday. It was really awesome.
I'd say a good mentor is someone who makes time for their mentee and is responsive to their work, able to connect with them and give them constructive criticism. But Caitlin wasn't a good mentor; she was a great mentor. Whenever I asked her a question over an email or asked if she had time to meet over the week — it's not that she always had time, because she was extremely busy as a production supervisor at MPC, but she always made time to talk about my project, my process, things I should look at, resources for me to use. It was truly an amazing experience and I feel very grateful.
There were a lot of challenges I faced during the process. Setting up my green screen was much harder than I anticipated. Getting it smooth, getting out all the wrinkles, literally took four days. Then my microphone broke after I did my first shot, but I didn't realize it. I did a mic check and then I recorded for an entire day, all my content. And I sat down that night and I said, I'm not going to edit it, I'm just going to put it in and maybe watch a little bit of it… and it was all useless. And that was crushing. So the next day I actually went to Best Buy and bought a new microphone and got back on the horse because, frankly, I didn't have time to worry about it.
During the experiential learning week I had extremely lofty goals for myself, and as I tend to work myself very hard, I set out to write my entire script, do all my interviews with people from the film industry and even start filming, all in a week. Instead I got half my script done, and I interviewed half the people. So that was the first sobering moment, where I needed to kind of take a step back and say, you can do this, but you need to have realistic goals. I think that's the most important thing I've learned about myself as a creator: Set more realistic goals for myself and allow myself to have a more realistic timeline for those goals.
Maxx will be attending the Ontario College of Art and Design for Industrial Design.