Reunion 2018 was a night to remember! It was a beautiful evening celebrating Watkinson alumni. Three alumni were honored this year: Hope Lipp Hall '88 won the Alumni Lifetime Achievement Award, and Chris Brooke '90 and Johann Smith '05 were both inducted into Watkinson's Athletic Hall of Fame.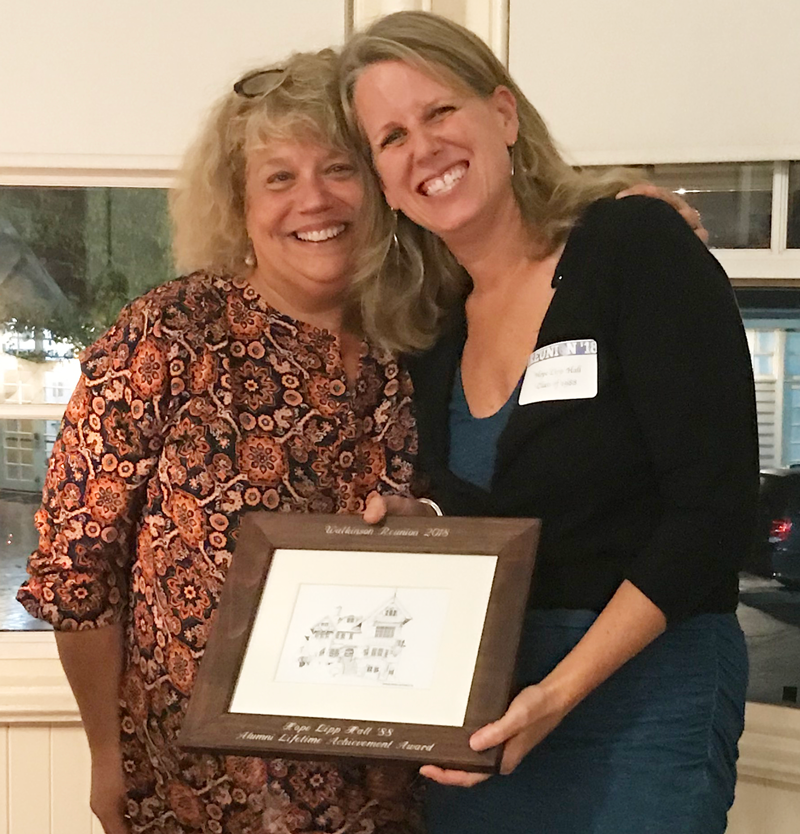 Hope is a very busy woman! As a teaching veteran of 27 years at Thornton Academy in Maine, the owner of Sunflower Farm (a no-cull Nigerian Dwarf goat dairy farm), a contributing writer for Zest Magazine, and a yoga instructor, Hope believes her passion for it all began at Watkinson.
She attributes much of who she is to her time spent at Watkinson from 7th-12th grade. To Hope, Watkinson was a unique place that helped students see connections instead of barriers, a school where leaders approached each day with a sense of a humor and a sense of joy and where the community valued a creative mind in all subjects. She has so many warm memories, and in all of them there is an openness to new experiences and a celebration of diversity and knowledge.
For the past two years, Hope and Sunflower Farm have held a "Be The Goat" auction where artists from around the world have donated over 200 goats in all mediums. They post the artwork on the farm Facebook page and people bid on their favorite creations. The proceeds are donated to organizations working to help people find their most empowered self. They have raised $10,000 in just two years.
Hope also completed her 200-hour yoga teacher training program last fall and now leads yoga at the farm, where sometimes up to 80 people gather in the field to downward dog with goats and try goat cheese and snuggle babies after.
Hope's brother, Fred a Watkinson class of 1984, shared his thoughts on his sister's life and career.
"Hope is uniquely gifted in her ability to identify and to celebrate goodness in the world.  She affirms people in subtle and profound ways. She finds joy in simple pleasures. Watkinson's Lifetime Achievement Award, as presented to Hope, celebrates the path of a student who soaked up the lessons and thoughtfulness of our school community, and concluded that the role of an educator has no boundaries. Her classroom, farm and yoga classes have allowed Hope to create small spaces where people can gather to celebrate what makes everyone feel most human in this sometimes crazy world. We are so proud of all that Hope has accomplished and know that she will continue to do amazing work!"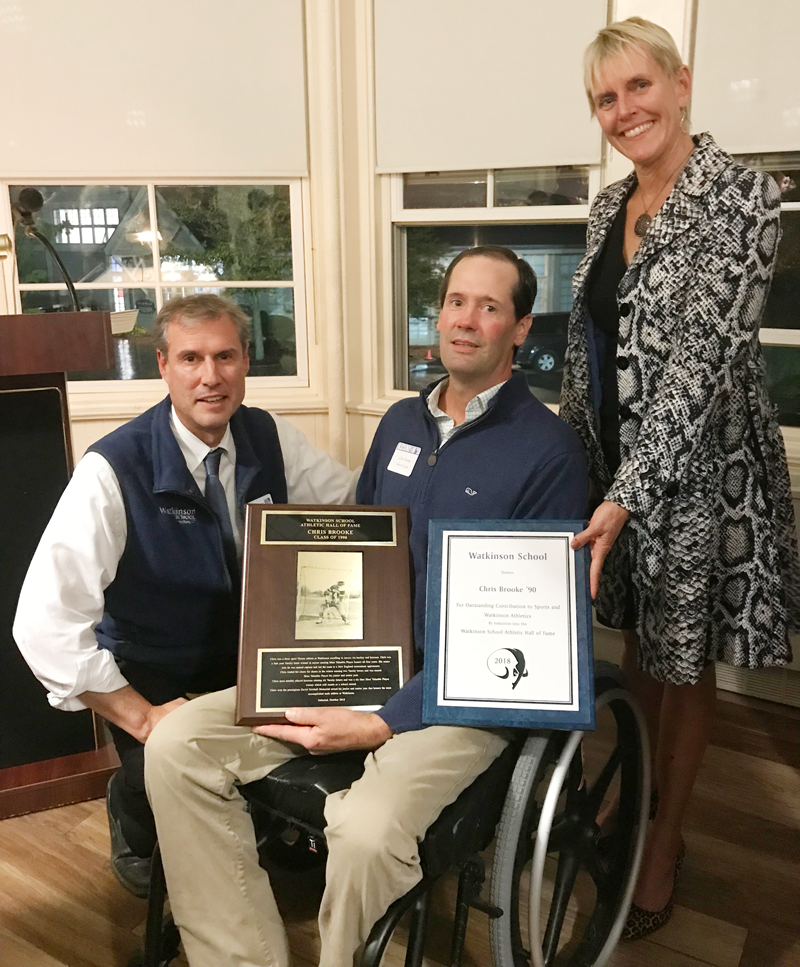 Chris was a three-sport Varsity athlete at Watkinson, excelling in soccer, ice hockey and lacrosse. He was a four-year Varsity letter winner in soccer, earning Most Valuable Player honors all four years. Chris traded his cleats for skates in the winter earning two Varsity letters and was named Most Valuable player his junior and senior year. Most notably, Chris played lacrosse, earning six Varsity letters, and was a six-time Most Valuable player winner, which still stands as a school record. His junior and senior year, Chris won the prestigious David Newhall Memorial Award, which honors the most accomplished male athlete at Watkinson.
Chris's teammates and friends wanted to share some of their memories. From Jeff Klein '90:
I had the pleasure to play alongside Chris in all 3 sports for 3 years. I remember, I wasn't going to play soccer my junior year and Phil Conserva and Mr. Crosson were hammering me for months to come join them prior to the start of that season. I wasn't budging! It was Chris, at lunch one day in his preppy sweater who said to me "Jeff, we need you!" Done deal now! How could I say no to someone I looked up to and strived to be at his level athletically?
From Chris's former teammate and friend Phil Conserva '90:
Chris ruled and elevated everyone's play.  In soccer he was so good at slide tackling and sending the ball from the wing; Chris was smooth as silk on the ice while he scored relentlessly in hockey; he would come out of the crease and wreck anyone he wanted. In lacrosse he could quickly scoop the ball as he'd step over the kid he just laid out- roll dodge his way up midfield and dump it to us on offense for an easy goal…then he would lay us out in celebration!  He did it all and we benefitted.
From Chris's teammate and friend Rob Lamy '93:
Lucky for me, Chris and I played one season together on the Watkinson lacrosse team.  Chris was a beast in the cage, which is to say he was an amazing goalie in all phases of the game. He stopped everything, and on fast breaks he knew when to come out and take out an attack men or hold and consistently come up with the stops.  He bailed us out so constantly that you almost expected it. He was great in transition, and his passes were always on the mark.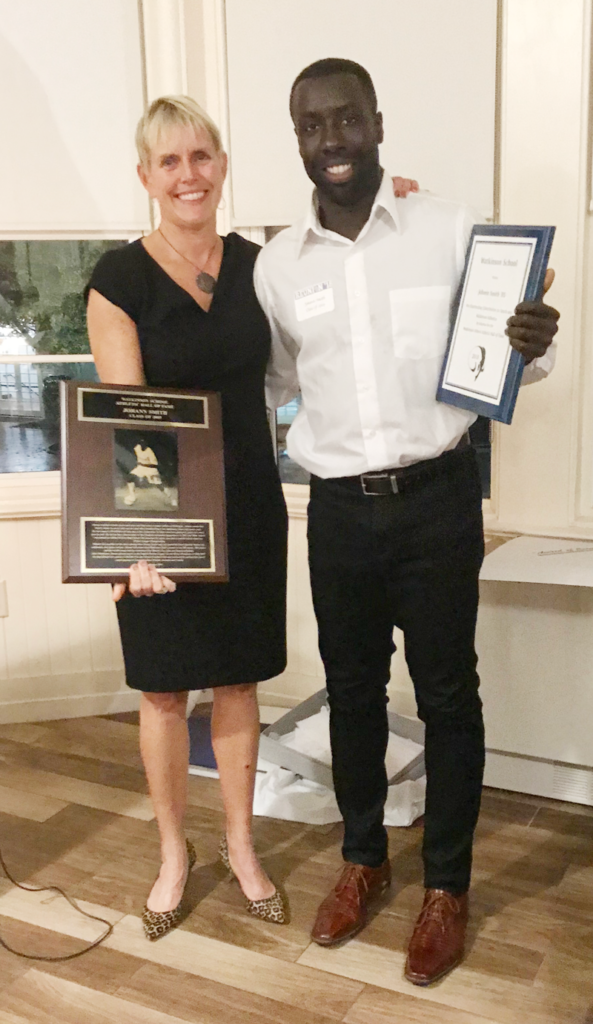 Johann excelled in both soccer and track and field while a student athlete at Watkinson. Johann earned four varsity letters in soccer and was the team's Most Valuable Player his sophomore, junior and senior years.
He was named a WNEPSSA All-Star and to the Connecticut All-State team his sophomore, junior and senior years. He led the boys soccer team to New England tournament appearances in 2002 and 2004. Johann was named an Adidas/NCSAA High School All-American his senior year and as captain led his team to a CISAC League Championship.
Johann also excelled on the track, earning three varsity letters and was named the Most Valuable Runner his sophomore and junior seasons. Johann still holds three Watkinson track records in the 100 meters, 200 meters and the 4×100 along with his teammates Eric Merrell, Jay Little and Kameron Pedraza.
After Watkinson, Johann played in the English Premier League for the Bolton Wanderers in 2006-2007 and was on loan and played with Carlisle United, Darlington Football Club and Stockport United in England. He also played two seasons in the MLS with Toronto Football Club. In 2009, Johann continued his professional career with a move to the Croatian Premier League, playing for HNK Rijeka; he competed with them in the UEFA cup. Johann also played in professional leagues in Sweden, Finland, Australia, and Canada.
From Johann's Coach and Friend, Andy Rees:
Johann was one of the main reasons for Watkinson soccer becoming known in the area.  His fiery spirit was contagious amongst his teammates and one certain game is etched in my memory as the best example of this.  We had qualified for the New England Class D tournament in 2004 as one of the eight teams selected in New England.  We played Gann Academy on a very rainy and cold day.  In the first half we still had "bus legs" and we went down 3-0.  There was frustration and anger as we gathered at halftime. After removing pounds of mud from their bodies and cleats the team decided to put their ill feelings aside and just go out and give 100% and let the chips fall where they may.  Johann led the charge in one of the most inspiring comebacks I witnessed in my 35 years of coaching.  He and his teammates battled back to win the game 4-3 and Watkinson soccer had arrived!
Because of his awesome ability Johann was asked to be a part of many high level teams outside of Watkinson as well.  This led to some of the highest level of college coaches knocking at his door, but Johann chose to go after a once-in-a-lifetime opportunity to play for a Premier League team in England. This was the start of Johann's professional career.
Thanks to Johann's contributions on the field, and his presence in the surrounding communities, Watkinson soccer was a force to be reckoned with for years to come as other talented soccer players came to Watkinson as well.
From Teammate and Friend Sam Cohen-Shikora 2006:
I played goalie so I got the worst of it during practice and warmups. Or maybe the best of it; depends how you look at it. At first, as a younger player many of his shots would be way over the goal and hit the athletic building. I still don't know how he didn't take out any windows. As he got older and more polished, the shots got more controlled and harder and more on goal. He helped me practice as a goalkeeper and made me better, improved my hands and got me way more bruised up.

As skilled and raw in soccer as he was, Johann never made anyone feel inferior. He knew the team could be good if we all followed his lead. His mentality rubbed off on us as we had success with him winning CISACS and making it to New Englands and then went on to win CISACS the next year after he left as well.
Want to nominate an alum for the athletic or lifetime achievement distinctions? Email Director of Alumni Affairs Kristen Gordon with your ideas!