As part of the strategic plan process, Watkinson invested in some market research, hoping to gain insight into how the school might best reach the families who would thrive here. The research firm came back with a reminder and some advice. Remember, they said, that word of mouth — especially in the era of social media — is the most persuasive tool. "The researchers confirmed that we have a powerful and unique story to tell" says Watkinson's Director of Publications, Jenny Katz-Brandoli. "But they suggested that we go about telling that story in a new way. Rather than trying to find the perfect words ourselves, we should find ways to let our people tell the Watkinson story in their own words." Immediately, the communications team shifted focus. Instead of agonizing over how to craft the ideal marketing materials, the perfect headlines and photos and emails, the year's challenge would be to create a storytelling engine, a way to gather, store, and share the authentic stories of students, teachers, parents, and alumni.
A Summer Storytelling Workshop
During the summer of 2018, Director of Communications Jenni French sent out an email to a group of students, parents, and faculty, asking if they'd be interested in coming to campus to take part in a day of Watkinson storytelling. "Mind you, this was the middle of the summer," says Katz-Brandoli, "and we were asking them to give up their whole day, basically, five or six hours to brainstorm and practice and write record. We thought, if we were lucky, we might get four or five people who'd be willing to come in." Instead, they got more than a dozen eager responses. As human beings, we trust and respond to stories as repositories of meaning and truth. "What we discovered at our summer workshop," Katz-Brandoli says, "was that all that language we'd worked on for so many hours and weeks and years, trying to explain the complicated nature of a Watkinson education… all that essence was just naturally coming out of people's mouths. We weren't telling anybody what to say. We didn't script a single thing. People were just reflecting the authentic nature of what's going on here at Watkinson. And that was really thrilling, this realization that the complex story could tell itself through the straightforward words of the people going through it."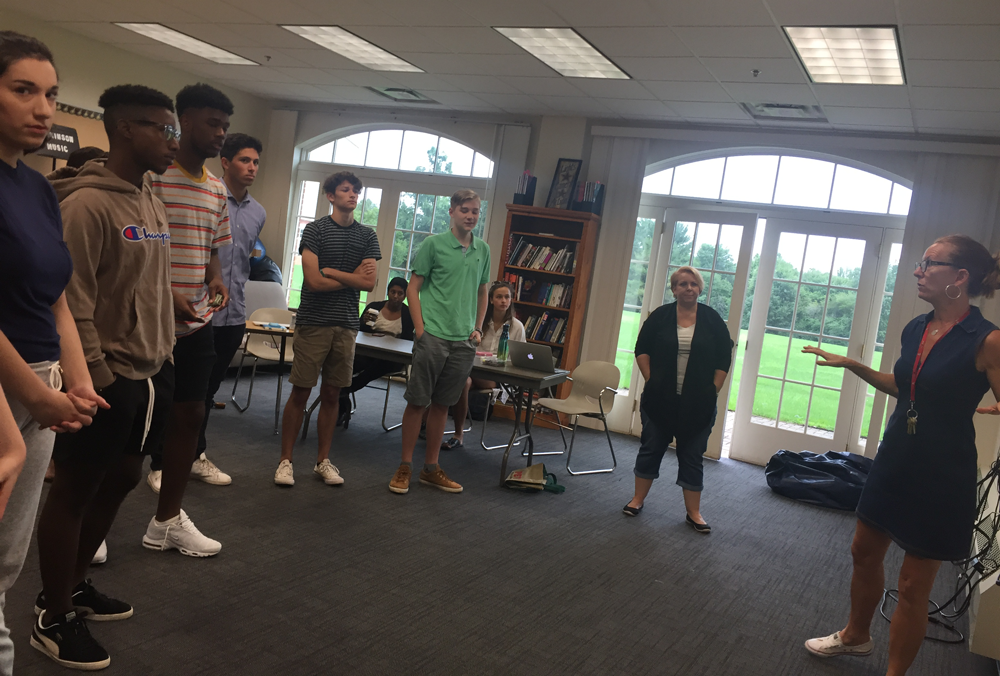 In other words, she says, storytelling isn't just about "marketing"; it's about reflecting and reaching and attracting the community that makes this place what it is. Watkinson's academic program and community interactions certainly provide storytelling fodder — but the storytelling also helps to shape and develop these programs. As Jenni French meets with Hartford leaders, activists, artists, and thinkers, spreading the Watkinson word, she's helping to grow the external cadre of supporters, engagers, and mentors that will be crucial to academic programs like the redesign of senior year. Furthermore, the new ninth- and tenth-grade Humanities curriculum, the cornerstone of the interdisciplinary structure that will go live this fall, is literally organized around storytelling; its main Essential Question, according to teacher Christina Bernbach, is "What is it about humanity that needs to tell stories? What is the importance of storytelling, and what is the impact of storytelling?"
A new viewbook, inspired
The stories they captured at the workshop became the body of Watkinson's new viewbook, the publication the school sends out to inquiring families to introduce them to the school. As opposed to past viewbooks, which had been text-heavy with explanations about Watkinson's programs and educational philosophy, this new little book was almost entirely in the voices of students, faculty, and parents. "We wrote a headline for each page," says Katz-Brandoli. "That was the extent of our writing. Everything else in the book is a quote, a real story, in someone's actual voice. And each story illustrates an important Watkinson point of difference." Click through the stories here:
The Watkinson Story Vault
These dozen stories suggested a next step. "Now we had a model," says Katz-Brandoli. "We knew people were excited about talking. And we knew what form new stories might take. So then the question became, Well, where are all these stories going to live?" She remembered a meeting they'd had in the spring of 2018 with alumni parent and former trustee Jeff Dornenburg, a graphic designer and advertising expert in West Hartford. "He'd come up with this idea of the top of his head. 'You know what would be cool?' he'd said. '"The Book of Watkinson," where you could flip the pages and read all the stories from every parent, every student.' I had loved that idea at the time, and it was still in my head. We knew we wanted more than a book, though; we needed something that could live online and be easily shared through — back to the market research about what was effective — social media word-of-mouth. And so the Watkinson Story Vault was born."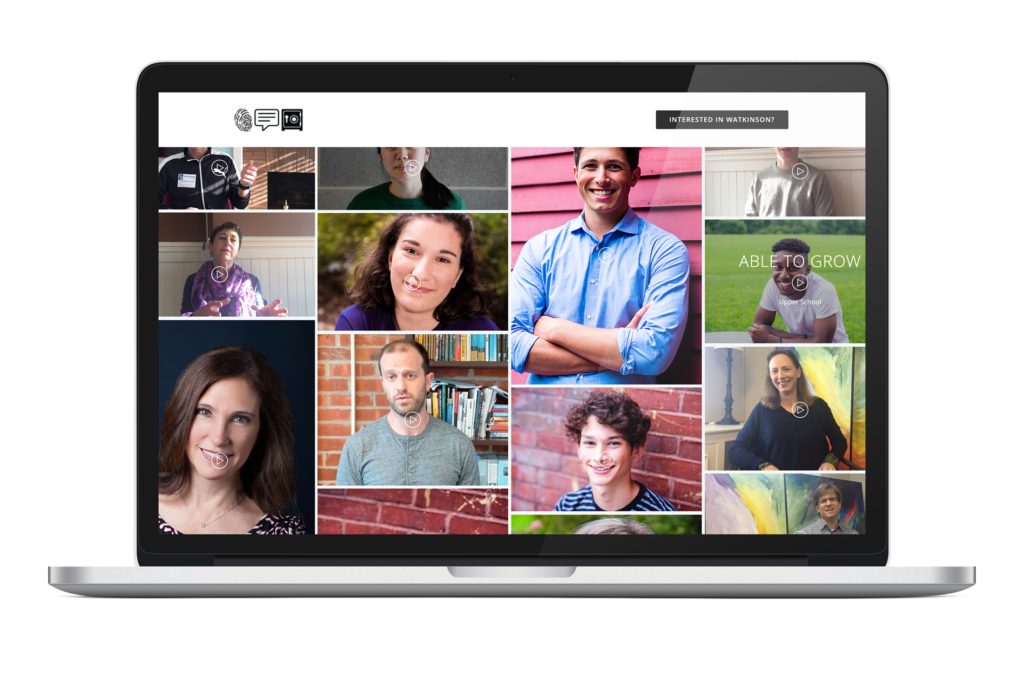 A filterable collection of videos from students, teachers, alumni, and parents, the Watkinson Story Vault covers topics from creating a ping-pong club to being prepared to reach out to professors in college.
The Story Vault is still new and will only be growing over the next few years. "The more we do of it, the more we want to do," Katz-Brandoli says. "And it's already reaching people. A girl and her father came to an Open House and said, 'We watched some of your videos. There was a middle school girl who said, "When I came for a visit, at lunchtime everyone scootched over and made room for me." That said a lot to us. So we're here to learn more.'" Here's the video they referenced:
Have a story to tell? We would love to add you to the Vault. Get in touch by emailing or send us your own selfie video from your phone! Slickness of production doesn't matter; all we care about is capturing your real voice. We hope to hear from you.